Drying Oven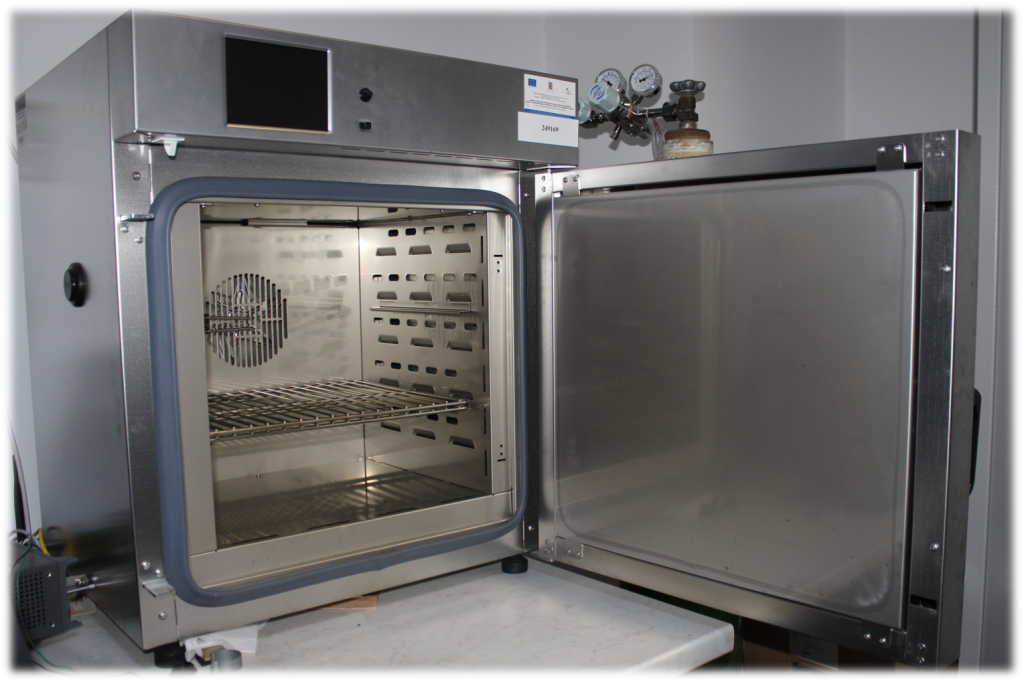 Across a large range of industries and research laboratories, drying ovens are useful for both simple applications (glassware drying/sterilization) and more complex processes which require controlled conditions (bonding and curing).
Chamber capacity: 56 L
Temperature range: up to 300°C
Temperature resolution: 0.1°C
Calcining oven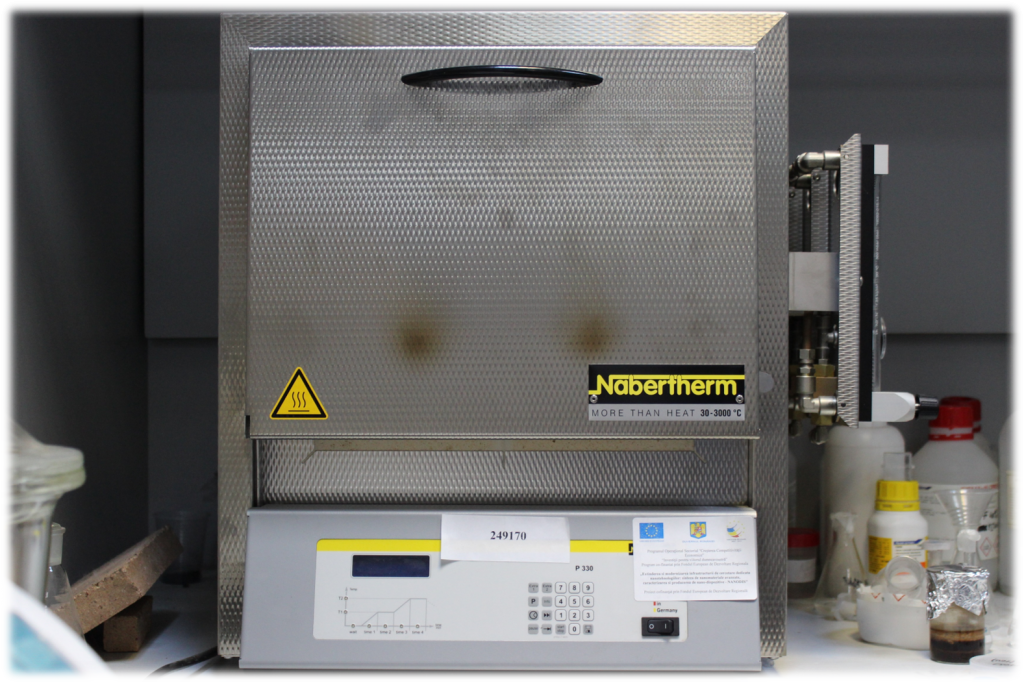 Calcination, also known as calcining, represents the thermal treatment of solid samples in ambient air or oxygen atmosphere, usually at temperatures lower than their melting point. As a result, the following processes may take place within the interest sample:
Thermal decomposition
Phase transition
Volatile fraction removal
Tabletop Centrifuge

High performance
Built-in 8-place rotor
Compact
capacity: 8x15ml
Max RPM: 8000
Pharmaceutical Refrigerator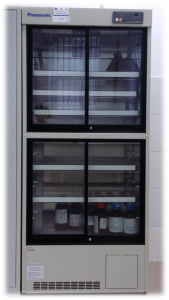 The pharmaceutical refrigerator MPR-S313-PE from Panasonic, equipped with an advanced cooling technology provides a compact solution, yet enabling a large storage capacity for pharmaceutical, biological, chemical and medical supplies.
Effective
Reliable temperature control
Quiet operation
Ergonomic design
Effective capacity: 340L
5 wire shelves
load/shelf: 20 Kg
Spin Coater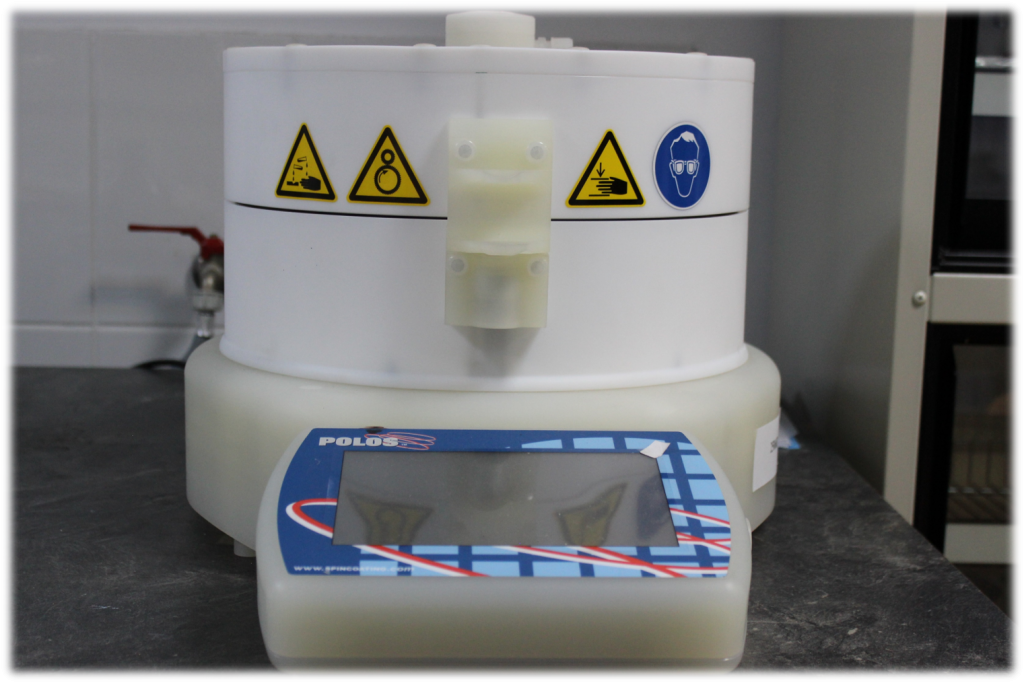 Versatile
High quality
All plastic
R&D and low volume production deposition
Suitable for all typical spin processes: cleaning, rinse/dry, coating, developing and etching.
Sample size: 5 mm up to Ø 150 mm
Typical Applications:
MEMS
Semiconductor
PV
Microfluidics field
Probe-type Ultrasonic Homogenizer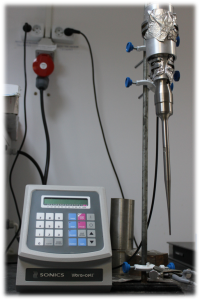 The ultrasonic probe device can be used for open beaker applications or in continuous processing using a closed flow-through mode. Using a sonicator probe instead of an ultrasound bath, the intense sonication zone is focused directly beneath the probe. The sonicator probe outperforms the standard ultrasound bath by a factor of 1000.
Ultrasonic Bath

Temperature range: from ambient +5°C up to 80°C
Working frequency 35 Khz
The following are some of the desired effects of the ultrasonication of liquid samples which can optimize the sample preparation process:
Disintegration
Sonochemical effects
Homogenization
Dispersion
Deagglomeration
Milling
Emulsification
Extraction
Lysis
Analytical balance

High-quality single-cell weighing system
Stable temperature behavior
Weighing space WxDxH 174x162x227 mm
Max weighing range: 80 g
Read-out: 0.1 g
Min reproducibility: 0.2 g
Chemical Hood

Highest possible operator protection during the potentially dangerous material processing
Double back wall for aspiration
An upper air inlet and an air inlet on the top provide for a rapid gas removal
Designed to prevent vortexes
Safety burst-proof system
Cabinets for acids/bases and inflammable products
Water Bath

volume up to 6L
up to 100°C
LCD display
incl. dome stainless steel flat lid
Centrifuge

speed: 100 – 5000rpm
Max. RCF 4980g
Timer: 1′ – 1h 59′ 59″
Noise <65dB

AFM Workshop

Precision Cutter

Simple to operate, gravity fed membrane panel controls
Rotating vise for larger samples
Optional table saw attachement
0.17Hp motor
Hydraulic Press

DSP Lock-In Amplifier
Lock-in amplifiers are useful tools for the detection and measurement of very small AC signals, even as small as a few nanovolts. The amplifier allows accurate measurements even for small signals usually obscured by noise sources many thousands of times larger. Using phase-sensitive detection, a signal with a specific reference frequency and phase can be singled out and recorded. The noise signal with different frequency than the one used as reference is rejected and does not interfere with the measurement.
Digital LCR Meter
Protek 9216A represent a valuable tool for measuring device characteristics.
Various functions
Basic accuracy of 0.05%
5 test frequencies
13 orders of magnitude
Up to 9 setups can be stored in the memory
Remote over RS-232C and GPIB/Handler(Option) Interface
Multiple-position hot plate stirrer with four separately controlled stirring plates
Maximum temperature 370 °C
Up to 4x15L flasks
Coated Al alloy heating plate
Excellent chemical resistance
Up to 1500 rpm
4 independent heating stirrers
Up to 155 mm diameter flasks
Picoscope
20 GHz sampling oscilloscope with TDR, CDR and optical option
Microwave bandwidth and femtosecond timing without high cost
2 or 4 channels
1 MS/s sample rate to 32 kS store
64 fs, 15 THz effective sample rate
14 GHz prescaled and 2.5 GHz direct trigger
Pattern sync trigger of length 7 to 223–1
8 ps typical RMS jitter
16 bit ADC resolution